Picture THIS
Bird calls and a warm breeze awaken you as the sun peaks over the hillside letting you know it's time to rise. You make your morning cup of locally grown coffee or tea and take it to go as you walk down to the beach barefoot to catch the first glistens of sparkling sunlight hit the ocean. There is an energy in the air as the world awakens. Sleepy surfers passing by to check the surf, you watch them enthusiastically venture out into the ocean. It calls you and you follow suit, taking a cool morning dip, the only one around. It feels exciting and awakens you in a deeper place than you remember.
Hunger calls so you walk back to your villa to snack on fresh papaya, sweet island banana and some passionfruit. You hear a car arrive and we greet you with a glorious vibrant red colored juice. It smells like island spice but is sweet and sour, refreshing and delightful. We take a few moments together to breathe in the morning then shift gears for an asana practice designed just for you. Class feels amazing as your muscles warm and movement feels opening. During savasana you go to such a deep place of relaxation the world softens and you can't tell if you fell asleep or traveled somewhere through time and space. When your awareness returns your hosts share a beautiful meal of fresh produce filled with herbs and hibiscus flowers are in the salad! It's so pretty you take a picture.
They leave you with a foot bath filled with herbs to enjoy after lunch and then you have the afternoon free! Do you want to take a surf lesson, have a massage or go horse back riding? Nope, today you feel so sweet you feel like you are floating. Picking up your book and taking a seat in the hammock you read until your eyes get heavy and you nod off in the gentle swing holding you so dear under the shadows of the palms.
As you awaken you remember there is ice tea made with local plants in your cooler! It tastes so bright. Energy has returned so you head back down to the beach for a long walk. It seems like the beaches here stretch on forever so today you go in the opposite direction. A tide pool comes into view so you take a break for a dip. You feel like a mermaid basking in the sunshine all alone in paradise. You feel beautiful and fresh and ready to swim. Instead of walking the whole way back you take breaks to swim and see a turtle is following the same path. Are you breathing together? If feels like you are in sync with everything in nature. You don't want to get out of the water, so you don't. Sitting there until your fingers prune and the wind changes. The energy shifts and calls you back as the sunset begins to show its colors around the edge of the beach. It's breathtaking. Sitting in the sand you find the perfect moment for meditation as the daylight closes. Walking home you feel alive in the most peaceful way. As you enter the driveway Carlisle and Zaplin pull up smiling. Smells of spices arrive with them and they excitedly tell you they found a special herb they were looking for to make you dinner. The cooked food smells good after the day. You are tired but eager to hear what they share with you before dinner. The next day sounds exciting. After they leave you light a candle and take a few moments of gratitude before eating. Life feels good. It feels different. Dinner is delicious. You think about calling a friend but don't want to even talk about this sacred experience. It's simple but something profound is bubbling within. Instead you do a self-oil massage with the oil blend the hosts made you and then take a shower. Sleep is creeping in. You lie down and drift off into the world of dreams looking forward to another day in paradise tomorrow.
To See More on our Theory in Practice watch the Video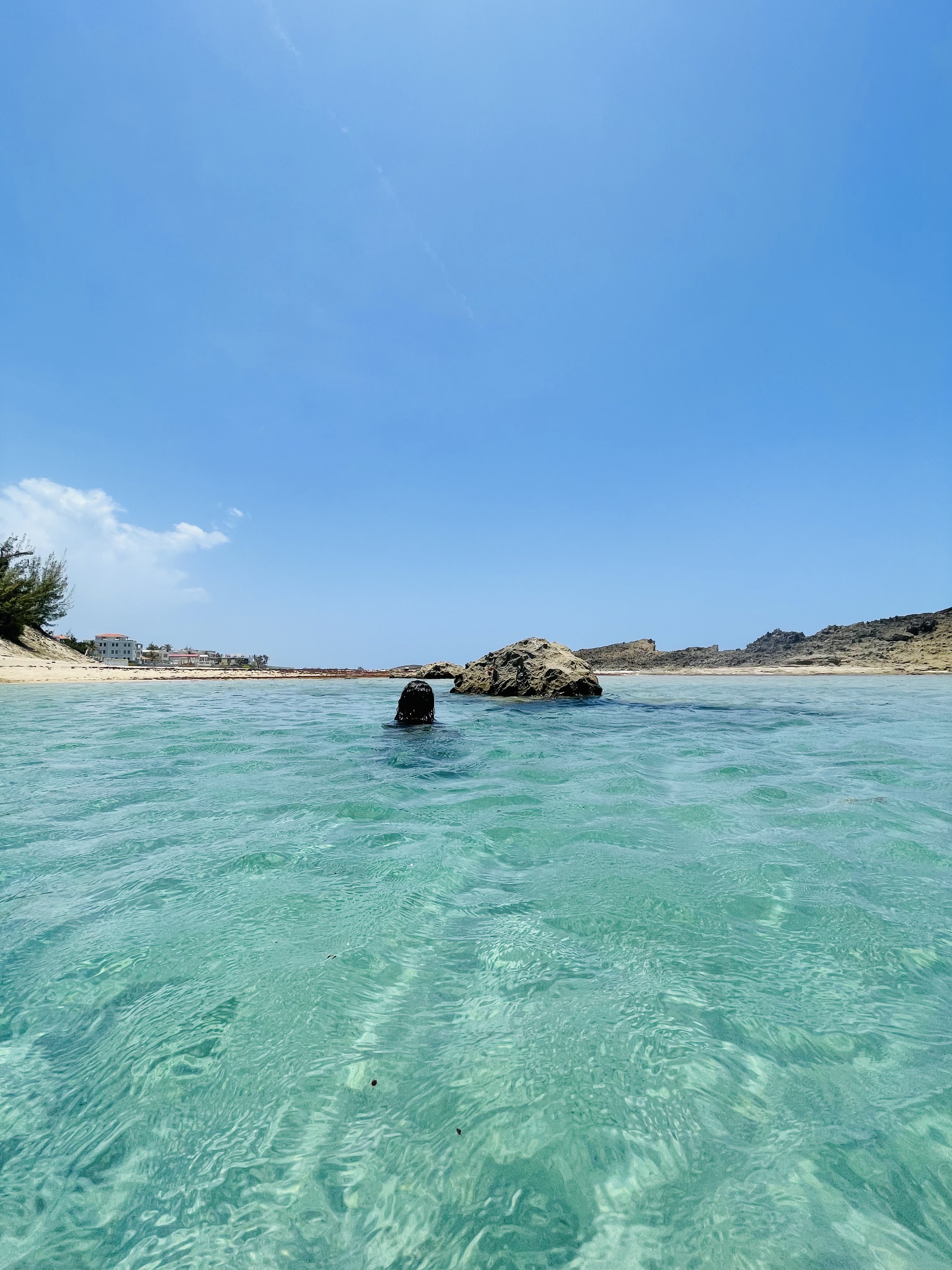 Explore the beauty of the Northwest Coast
Isabela is home to miles of beaches, walking trails and tide pools.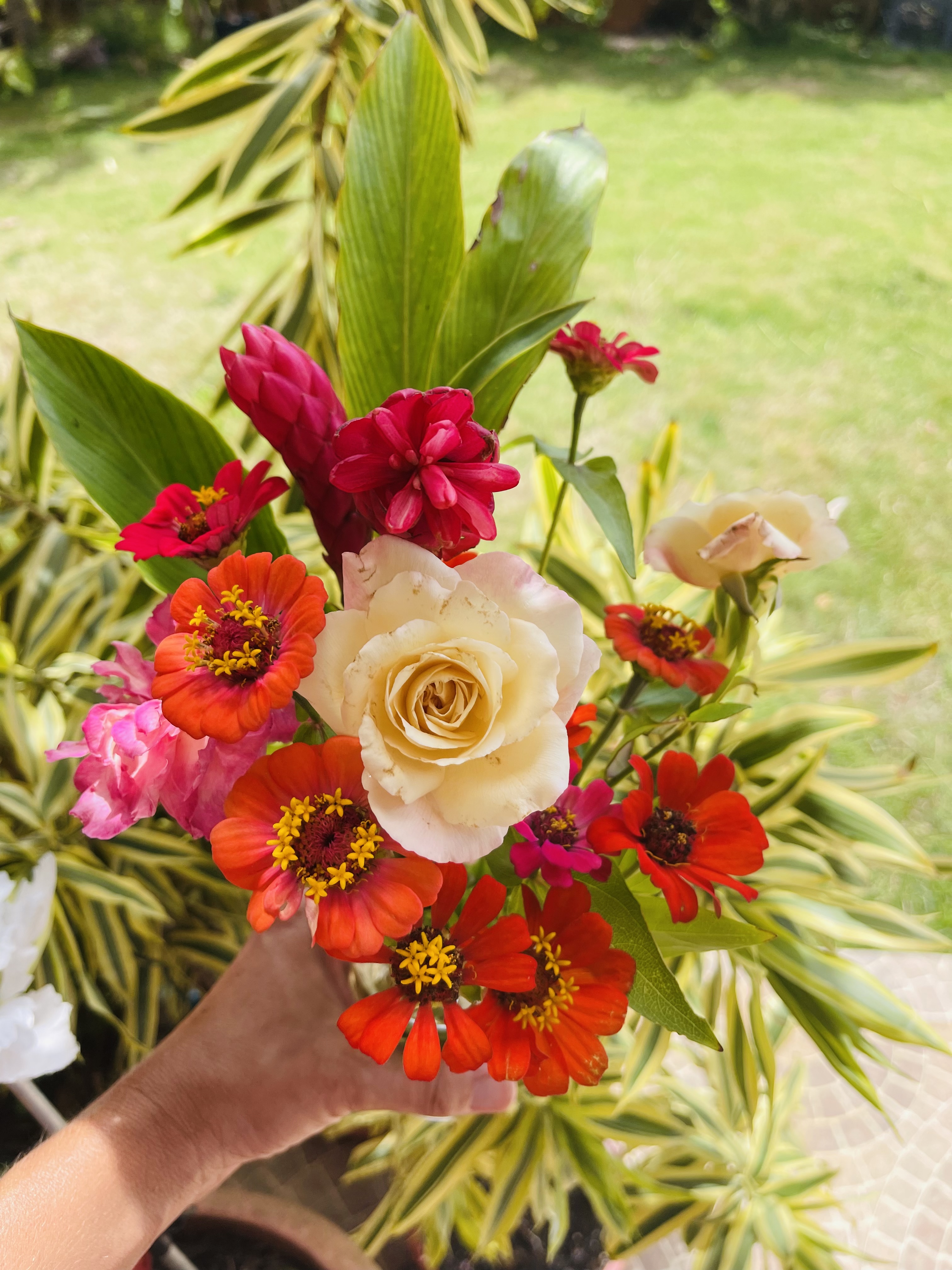 Island Style Sense Therapy
Fresh island foods, flowers and farmers market finds.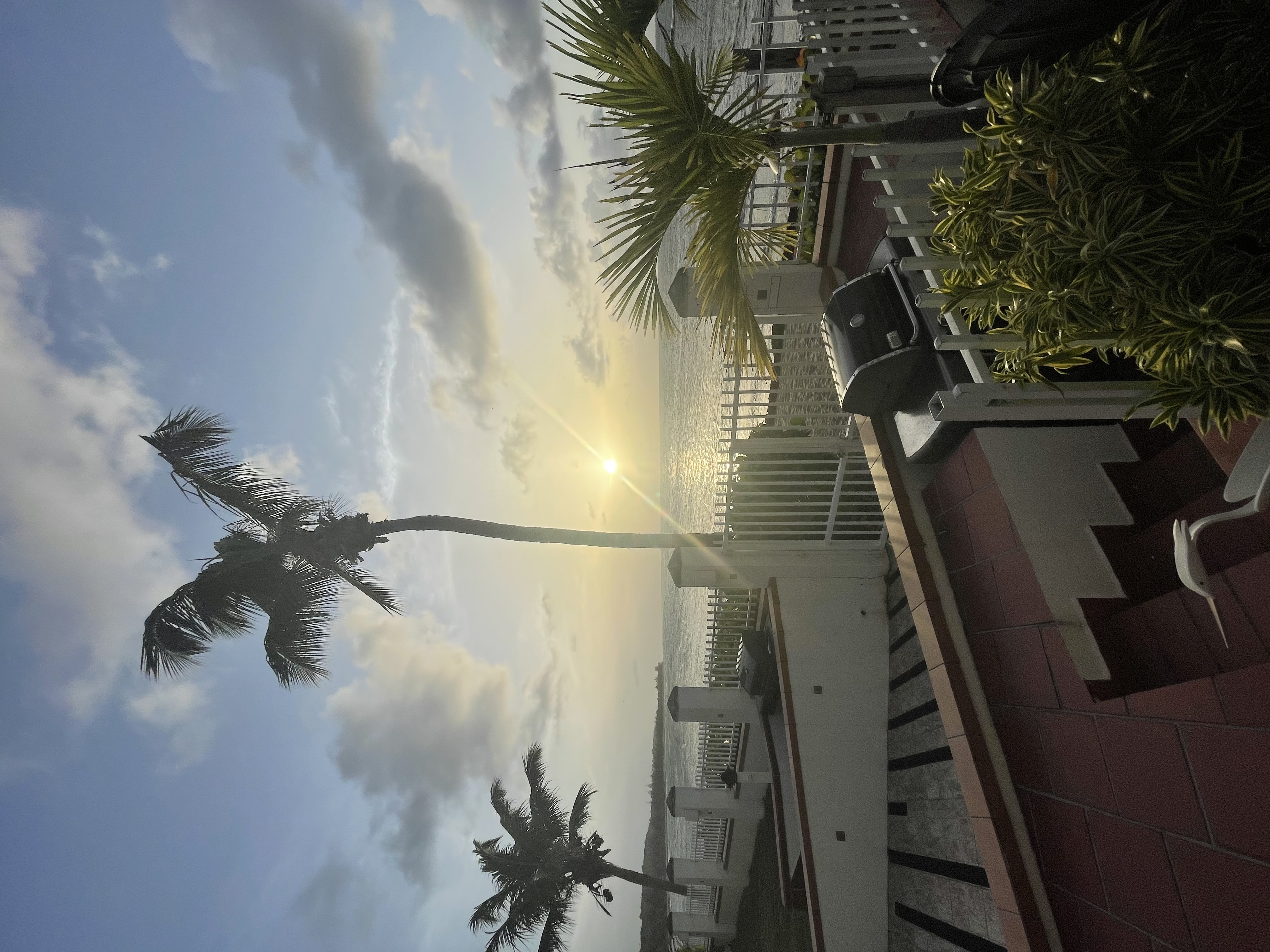 This could be your view each evening! Sunset dinners delivered right to your door.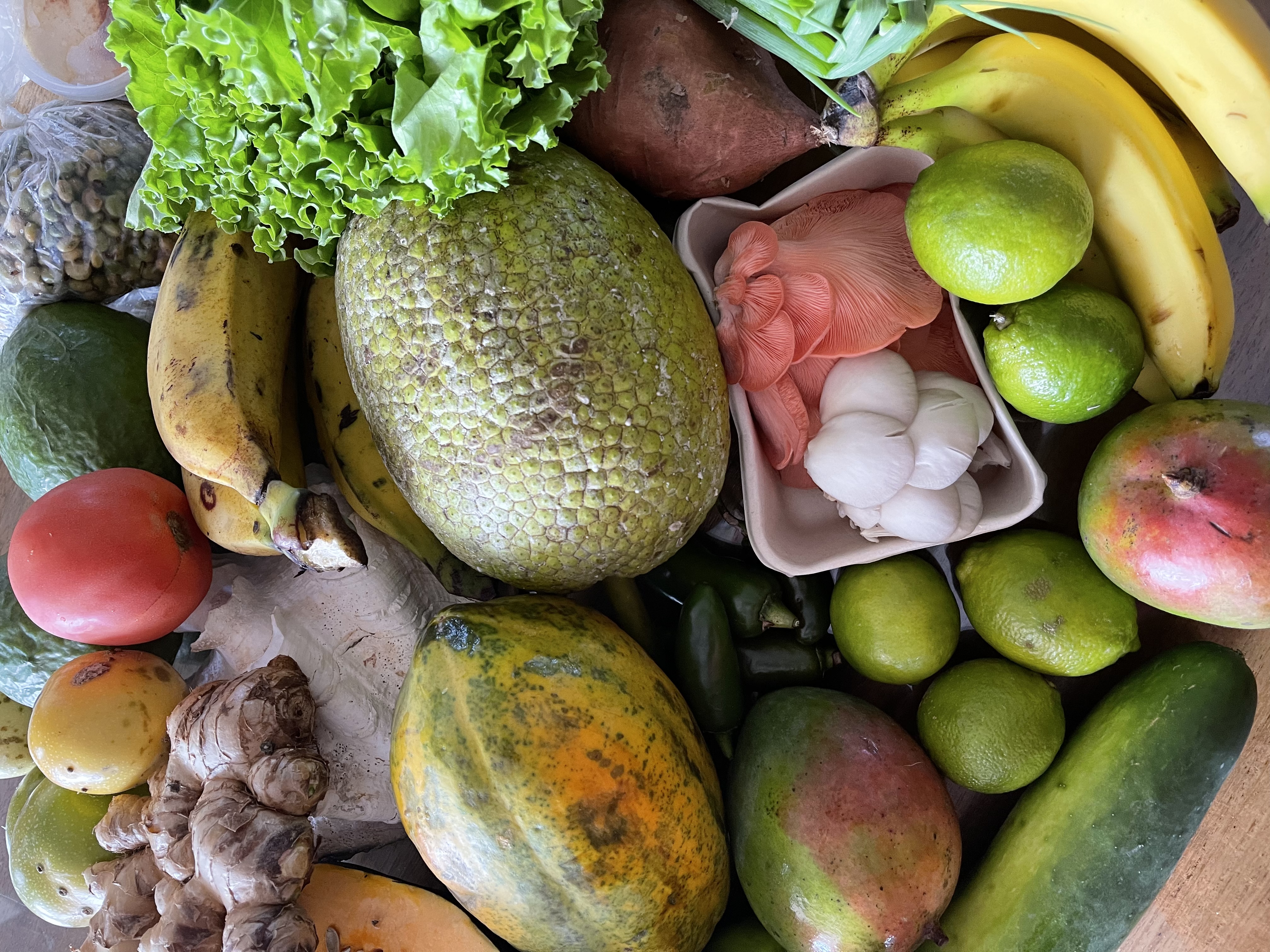 Located on the beautiful Northwest Coast of Puerto Rico in the town of Isabela you will be staying walking distance to the beach with 13 miles of continuous sand stretched shoreline with endless swimming spots, surf areas and walking trails.
Your private accommodations come equipped with a mini-fridge, coffee and tea station and 3 meals a day delivered to your door. Bringing a friend? We offer special rates to shared bookings and small group offerings.
Program Includes:
Accommodations
Linens
3 Meals a Day
Daily Asana, Pranayama, Meditation
Ayurvedic Theory & Practices
Airport Transfer from San Juan or Aguadilla
Free time to enjoy Nature
Optional Add-ons
Therapeutic or Deep Tissue Massage
Surf Lessons
Horseback Riding
Bike or Scooter Rentals

Frequently Asked Questions
Where do I look for flights?
We recommend flying into Aguadilla (15 minutes from your accommodations) where we offer FREE airport transfers.
San Juan Airport is 1.5 hours from Isabela. If you fly in there you can easily rent a car (fun but not necessary) or we offer a FREE airport transfer.
Flights to Aguadilla get in at weird times, is that ok?
We know! We are more than happy to still pick you up, even in the middle of the night. If you fly into Aguadilla and need to book the accommodations for an extra night for landing we can add that for a minimal cost. Just let us know.
What if I need to cancel last minute?
Your 50% deposit is non-refundable but is transferable to a future date. We will hold the deposit and you can join us at a mutually convenient date either in Maine or Puerto Rico. Balance for program is due by arrival.
Cancellations less than 48 hours before arrival are non-refundable. Program balance can be applied to future programs with a 25% reschedule fee.